Meeting the Irish President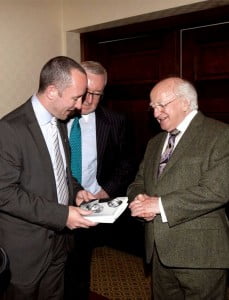 In mid 2013 I had the distinct honour of meeting the Irish President Mr. Michael D. Higgins in Zagreb and presenting him with a gift of my book. The occasion was a celebration of Ireland's EU presidency and the entering of Croatia into the EU after a very long and arduous process for the Croatians. The evening was graced with exquisite traditional music and a some thoughtful words by the president.
I thank the president for his words of encouragement which every writer wishes to hear and agreed with him that we need to see the book published in more countries worldwide.
The Irish President is himself an accomplished author of numerous books some of which are listed below. I recommend them to your attention.
Image: Paul O'Grady, ambassador Mr. Kieran Dowling, President Higgins
Poetry
The Betrayal (Salmon, Galway, 1990)
The Season of Fire (Brandon, Dingle, 1993)
An Arid Season (2004)
New and Selected Poems (Liberties Press, Dublin, 2011)
Non-fiction
Causes for Concern (Liberties Press, Dublin, 2007)
Renewing the Republic (Liberties Press, Dublin, 2011)